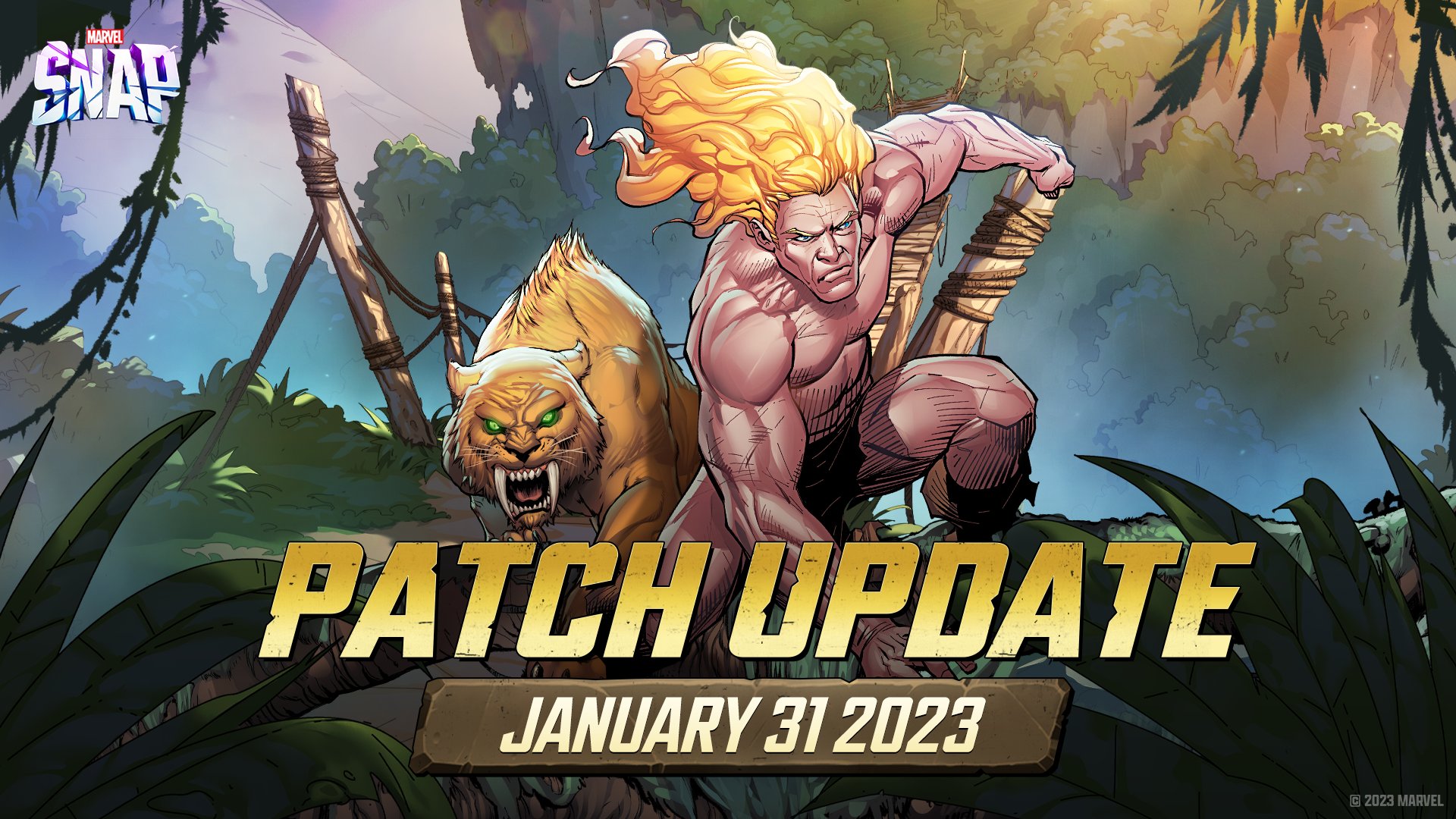 Image Source: Official Twitter of MARVEL SNAP
MARVEL SNAP finally finishes its January 31st update and it is filled with more fun stuff and new things to explore! However, you need to update your game client in order to implement this patch.
In this update, a new feature, Friendly Battles, is where you can now play against friends via an in-game code. To access this, you can go tap the new "Game Modes" icon on the navigation bar and then tap "Friendly Battle" to get started.
There are also some general changes to the game such as changing the name is now can be done once every 30 days within the Avatar menu. Then, Zabu has been added to the Token Shop under Series 5. Also, if you have a response in waiting in the Updated Player Support conversations, you will have a red dot notification notifying you.
See more details here:
The words below are stated directly from the official patch notes.
---
Patch Highlights
---
Friendly Battles
You can now play against friends via an in-game code. Tap the new "Game Modes" icon on the navigation bar and then tap "Friendly Battle" to get started!
Battle Mode tips to get you started!
Access Battle Mode after completing the "stakes tutorial" and hitting Rank 10.

You cannot change decks between rounds or SNAP beyond your health bar!

During Round 5, the stakes are raised! Rounds start at 2 cubes rather than 1.
---
General Updates
You can now change your name within the Avatar menu once every 30 days.

Zabu has been added to Series 5 in the Token Shop.

Updated Player Support conversations now have a red dot notification to let you know a response is waiting.
---
Audio
A Voice Over Volume slider has been added to the settings menu.
---
Art & Visual Effects
Added new effects for Ghost Rider when there's no card to play.
---
Balance Updates
---
Card Updates
Leader: [6/7] On Reveal: Copy all cards your opponent played to the location to the right, but on your side.

Wolverine: [2/2] When this is discarded or destroyed, regenerate it at a random location with +2 Power.

Text-Only Updates:
In addition to Wolverine, a few cards use the word "play" in their text but don't actually play anything. This small update aims to avoid players misinterpreting how these cards interact with triggers that specify playing a card:
Sentry: Using more consistent language for similar effects.
---
Location Updates
Text-Only Updates to:
The Raft: Removing the word "draw" for accuracy.

Vibranium Mines: Removing "a card" for brevity.
---
Bug Fixes
Killmonger no longer has the incorrect translation in non-English languages.

[Android] Pinning a Token card then tapping the device Back button or ESC on PC should no longer un-pin the card.

[iOS] UI elements no longer clip with the card ability info at the bottom of a card when a card is focused.

Fixed an issue that could freeze the game when interacting with the Season Pass Spotlight Card.

Fixed several Avatars that were not centered.

Fixed an issue that would sometimes allow cards other than Shocker to be removed from the deck during the deck edit tutorial.

And many more!
---
For more detailed info about the January 31st patch update, you can check the official patch detail here:
What are you waiting for? Let's gear up and start battling with your friends in the new Friendly Battle mode!
Life is too short to be anything but happy! - Arelios
News Source: Official Website of MARVEL SNAP (marvelsnap.com)