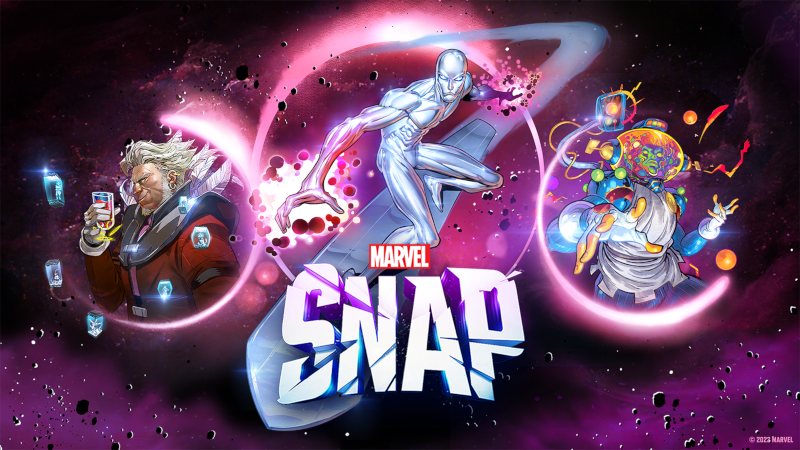 Marvel SNAP officially announced their December's newest season, The Power Cosmic. In this season, there will be tons of new activities to do, let's jump in on the details!
---
New Character: Silver Surfer
On Reveal: Give your other 3-Cost cards +3 Power.
---
Another New Cards
---
Knull
Ongoing: Has the combined Power of all cards destroyed this game.
Release Date: December 13, 2022
---
Sentry
Cannot be played at the right location. On Reveal: Add a -8 Power Void to the right location.
Release Date: December 20, 2022
---
Darkhawk
Ongoing: +2 Power for each card in your opponent's deck.
Release Date: December 20, 2022
---
Brand New Locations
There are also new locations this season where you can test out new decks with your new cards!
Lamentis-1: Draw 3 cards. Destroy both decks.

Klyntar: After turn 4, merge your cards here into a Symbiote.

Vormir: The first card you play here is destroyed.

Morag: You can't play your first card here each turn.
---
Brand New Variants
This season also brings tons of new variants with 20+ more new variants to choose.
---
For more detailed information, you can jump straight into the game or check here:
What do you guys think of this month's season? Comment down below to share your thoughts!
[NOTE: I'm sorry for the late news. Somehow the news on the official website won't update on my end. I even cleared my cache and try to change my browser with no luck at all. Terribly sorry for this late.]
Life is too short to be anything but happy! - Arelios
News Source: Official Website of Marvel SNAP (marvelsnap.com)